Discussion Starter
·
#1
·
Ok. We took Marley to the groomer the other day. We had a different one then the one we saw twice before. The groomer called us and said that Marley had some matting issues. I was surprised, because I had this image of matting as big ugly harmful things. I went to see what she meant, so I could educate myself. It was not bad, but but very close to his skin virtually all over there were spots of lab unable to move because of the poodle hair. Marley is an F1b so this did make some sense. She advise combing him out then get the groom. To make a long story short, in the end the we decided, with the groomers advise, to go ahead and trim him down to an inch in length. Later the groomer decide to go shorter because of the matting. I still do not think it was necessary, and it will grow back but I was not to happy about the way Marley looked when we went to get him. We thought we were doing a good job of brushing and in many ways we were, but we concentarted out efforts in the areas, were it seemmed it needed it. The we got the other areas to briefly. So we will scratch this up as a learning experience, and learn to live with this until it grows back in. It is hard for me because i just loved the it was before. I have done more research and I am purchasing an arsenal of brushes to see that this does not happen again.
I have seen lots of doodles, many of which I am sure that are not brushed as often or as much as Marley has been. I had no idea there were any issues. And then this. I am not sure, but perhaps the new groomer was less experienced(?) and made a wrong call? Was over careful? Who knows. We will most likely go back, but I think we will ask for the other one we had.
Anyway, here is the results. Tough for me to get used too, but we still love our boy!!
Before
After( Some at the dog park, his debut as a short hair!!)
[/img]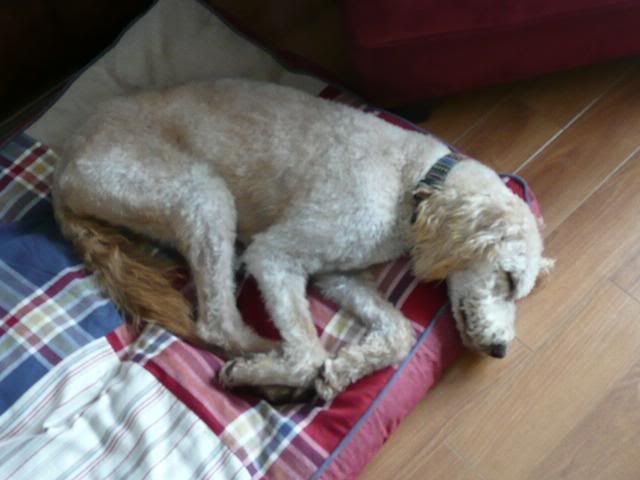 Still alot of snow on the ground. Check the pinic table.
Back home resting
[/img]