Discussion Starter
·
#1
·
Yesterday we drove 2 hrs. to get to the dog show so that Tuesday & Marley could get CERF tested(both passed w/flying colors!!).BEAUTIFUL venue, but, by the time it was our turn to sign up, the next appt's were over 4 hrs. later, so we hung out there all that time.
The people that we met from the dog club were great! When I signed up for CERF, when asked what breed they were, I hesitated, then quietly told them Labradoodle (gulp!). The sign-up lady replied "don't worry, we don't have a problem with that here, are you the same gal that came last year?"(no). When I returned with my filled out paperwork, the table of 5 of them were in a heated disscssion on Golden Doodles :lol:
When we returned prior to our appt., they asked how come there was such a difference in coats between Tuesday(F1 LD, favors Lab) & Marley(F1B LD, favors Poodle). It got into a nice question and answer period & they were genuinely interested.
I also put on their pinch collars as I didn't want them to act up with all the
other dogs there & squirrels in the park....the 2 of them together are over 150#, and when they get excited can be a BIG handful! One of the gals from the club came over and warned me that if any of the officals saw me with those collars on I would get kicked out, so we quickly attached their leashes to their regular collars, and hid the pinch collars....I thought that was nice of her!
After awhile I got braver and followed my husband into the crowds...there were a few raised eyebrows, mainly from poodle breeders & a couple judges, but no snide comments. My husband felt that people treated the dogs like they had cooties, pulling them away when they sniffed the other dogs ,but I told him that they probably were just concerned about disease transmission as I have heard that dog shows are a common source.
I don't know that I would go to a large show, but actually felt proud of my Labradoodles there.....even with Marley and his "bobble-head" cut.
While all the show dogs had to hang-out in the heat & look pretty....
Marley and Tuesday got to jump into the river there hourly...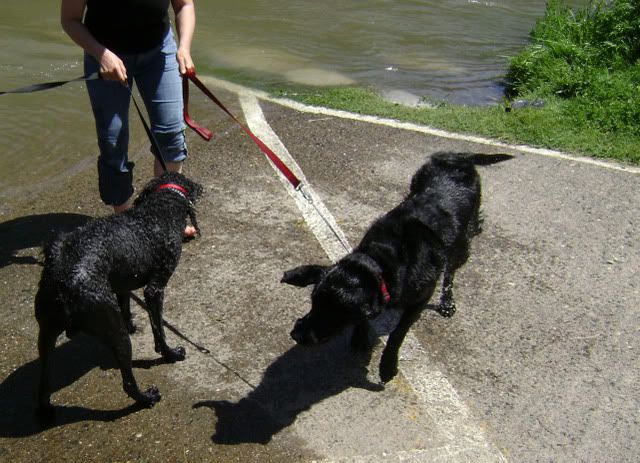 Tuesday didn't like them, but Marley was a sport and got to wear dad's Raybans for awhile as his eyes returned to normal...