Discussion Starter
•
#1
•
Hello all,
I've been meaning to post an update of how things are going since Tenzin's arrival yesterday.
He's a lovely, little confident, cheerful puppy. In some ways, he's the complete opposite of Jofi, who I now realise was a rather subdued puppy when she arrived - she was shaking as she stepped out of her crate at the airport and cried a lot the first days - Tenzin on the other hand seems ready for everything - he didn't bat an eyelid when I vacuumed the floor earlier (the two were playing in the garden and brought rather too much of the garden back inside!) - whereas Jofi always scampers and hides when the vacuum comes out. It's lovely to see two strikingly different personalities - I think in time they will make good companions.
When we first got home, Jofi was clearly very jealous of her new brother and I have to say I panicked at first, but a day and a half later, harmony is restored and they are enjoying one another's company - of course there are ups and downs and sometimes Jofi is too rough, but I'm not worried anymore, she isn't hurting Tenzin, rather just asserting her place in the pack. Tenzin is settling in fast, making us giggle with his antics. I love it how he melts in our arms when we pick him up to give him a cuddle - he's a real cuddle-bug. Jofi also seems to be responding by being more affectionate. Last night, she slept next to me the whole night - I slept in the kitchen next to Tenzin's crate.
Here are some photos. Hope you enjoy.
Jofi, chilling in her favourite place
Tenzin investigates the camera
Tenzin and his cuddly ram
Sleepy puppy (from above)
Jofi, Tenzin and me
Tenzin and Jofi sleeping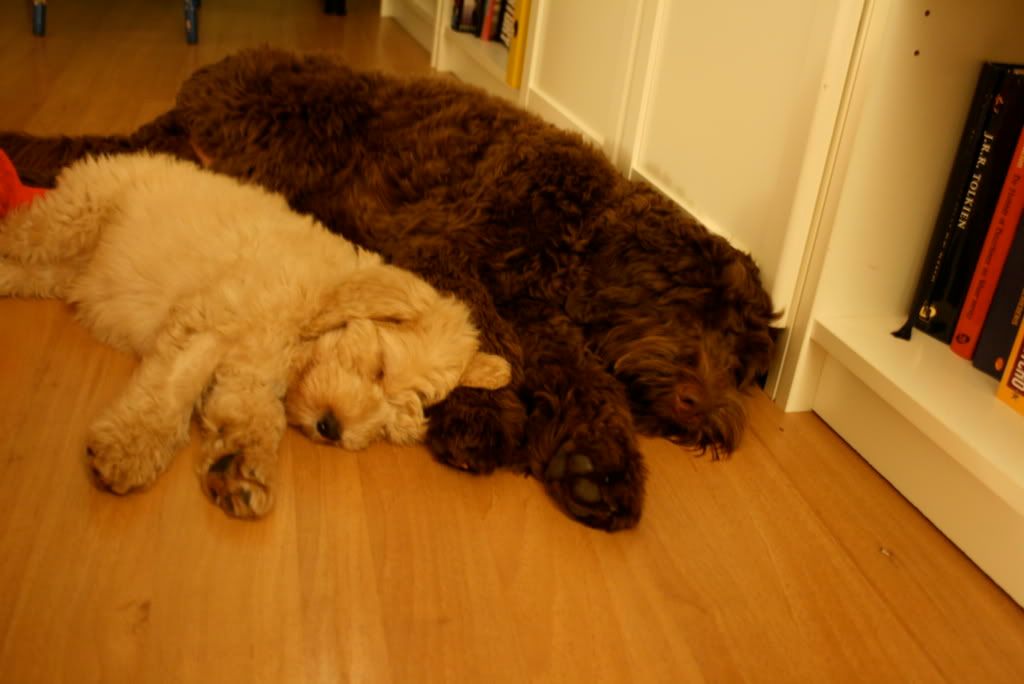 Greetings,
Libby, Jofi and Tenzin