Discussion Starter
•
#1
•
I took some interior shots of our lake house last week. I'm posting several of my favorites, so put up with me as most come with a story!
Here is my husband in the living room--as usual, more concerned about the television than the view!! This time of year, in the morning, the fog hangs right over the lake.
Here is a better view of the living room. Dakota is on "lookout" on the deck!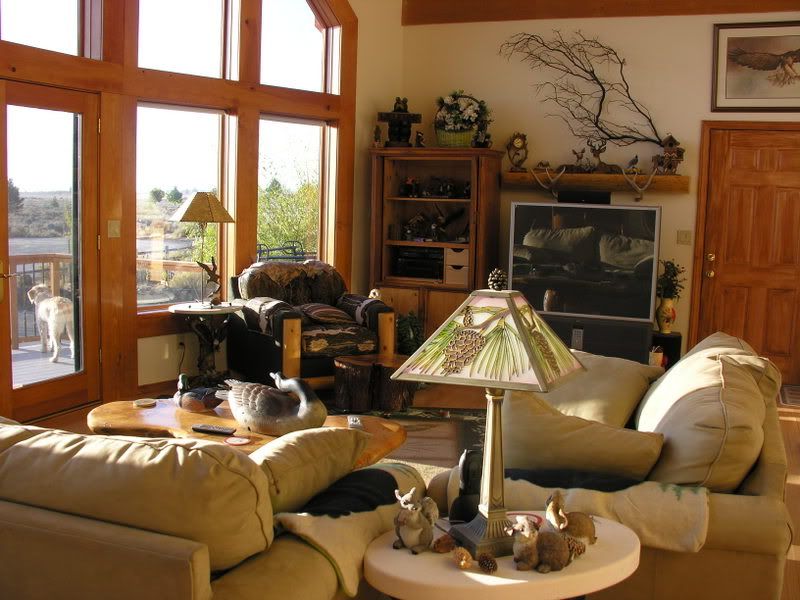 This is one of my favorite spaces. I was looking through a catalog one day and saw a branch over a fireplace--so something. I thought what a creative and inexpensive idea. Sooo, I drug my husband up to the foothills to cut some manzanita branches (shhhhh--I don't think we're really allowed to do that!) I loved it! But, then I didn't know what else to do with the space. Probably in my dreams, I came up with the idea of a log shelf supported (artificially, of course) by antlers. We spent weeks looking for the right log and finally drove by a dear friend's house and he had a pile of logs--he was delighted to donate one. My husband spent endless hours perfecting this log. Several people offered to donate antlers but none were matched, so I finally found these on EBAY.
This is another space that I am very found of--it took a lot of effort to get it right (I am not a decorator!) Do you know the story of the Eagle and the Osprey? Benjamin Franklin strongly protested the Bald Eagle being named our national bird. His words were something like, "the Eagle is of low moral character--nothing more than a common thief." Well, the Osprey is an excellent "fisher bird"--they live most exclusively on fish. The Eagles like fish, as well, but are much lazier than the Osprey. Sooo, the Eagle will wait until the Osprey catches a fish, and being bigger and more powerful than the Osprey, will dive at the Osprey, hit it in the back, knock the fish loose, somersault over the Osprey and catch the fish before it hits the water! That's what a lot of this space depicts!
This is the kitchen--excuse! We were packing to leave, so it's a bit messy!
This is bedroom one--as we call it. My rooms are "themed" for the most part--this is the "fish and foul" room! Two things make me really happy about this room. I wanted some nice window coverings, but they are soooo expensive--about $400-$500 per window, so I actually made my own; and I don't know how to sew! I was delighted with how they turned out. The other thing is the picture on the wall looks so much like Dakota and I bought it before he was born!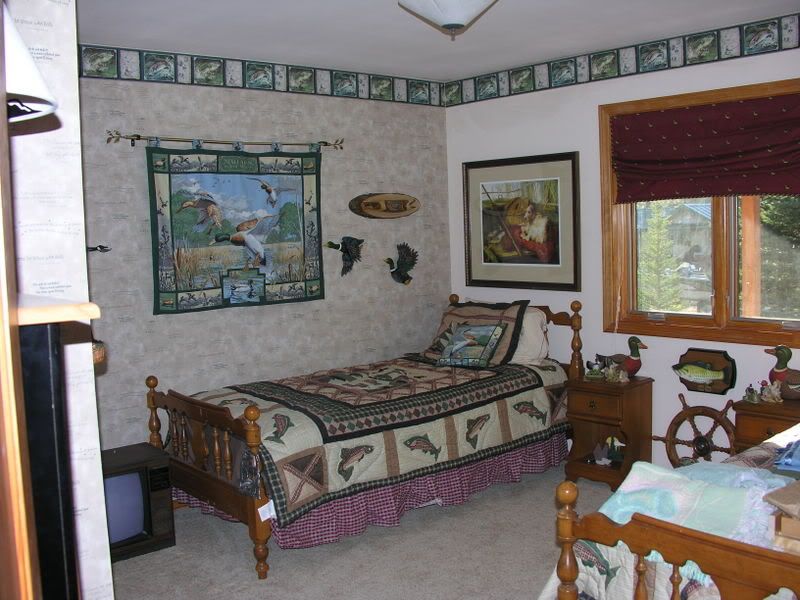 This is the "deer" room.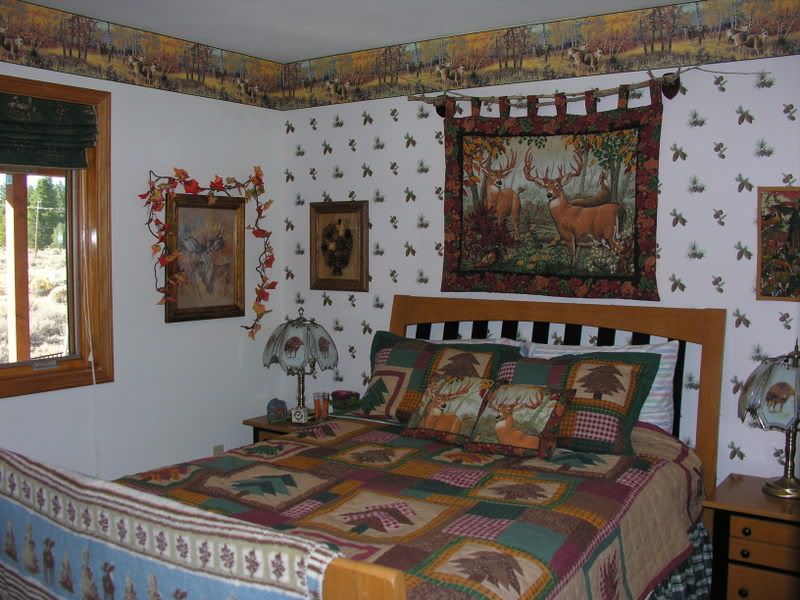 This is our bedroom--the "bear" room!
[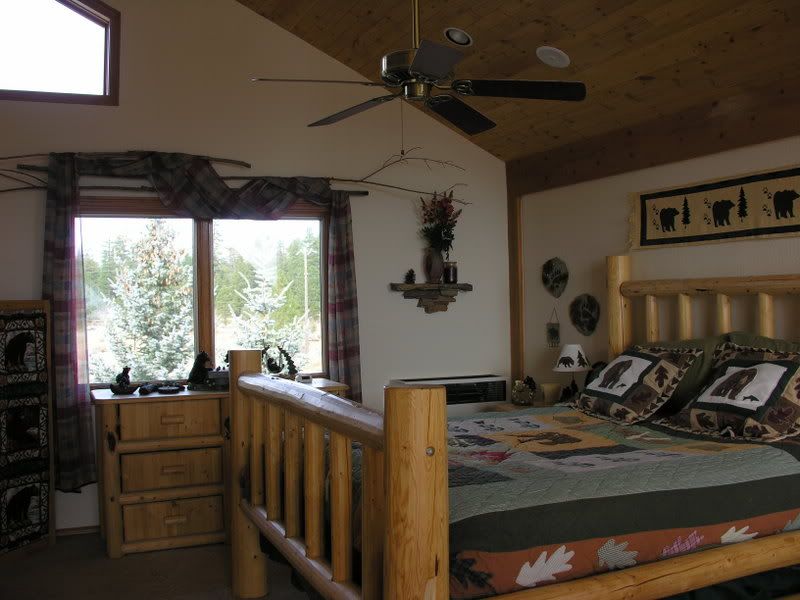 And this is our "bonus" room. Our friend talked us into putting a basement in--we had never considered it; it's really not common in California. We listened to him and this is what we did with it. We love entertaining and this is the spot! It even has a fourth bedroom included!
Lastly, this is the rock we had brought it to set up as a natural bird bath--it is fed through our drip system. We do enjoy the nature at the lake. We have five bird feeders, six bird houses, a butterfly house and a bat house!
Diane (and Dakota)