Discussion Starter
•
#1
•
All of a sudden since Dex has been able to play with Kirby again post surgery (this means the past 3 days), the boys have added a new element to their play and I'm not sure what it means. In the past Dexter would not show his belly with Kirby next to him, but check out this video...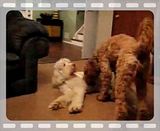 Do you think he's becomming more submissive or is this just some sort of way they are playing? Dex submitted early on to Kirby and never really tries to take dominance...I find it all cute, but then again I don't understand dog language
Oh yeah - Kirby has also been a humping machine, but Dex looks like the happiest doodle in the world...so he seems to be enjoying all of this.