Discussion Starter
·
#1
·
To start, let me say that my aunt and her family got Boomer's sister, Zeena, last October when the puppies 8 weeks old (They are now 10 months). My aunt had wanted a second dog as her son's companion because they had just moved to a new town close to ours.
We were very successful right from the beginning in training,raising, and housebreaking Boomer. Because my aunt had never raised a puppy, I gave her advice and tips. She, however, being very stubborn, thought she knew what she was doing. Zeena had the run of the house from 8 weeks on, and was constantly treated with inconsistant discipline. She was probably on 3 or 4 different foods before switching to one that worked, her "sleeping arrangement" constantly changed from room to room, she wasn't not socialized except with my dogs, and she was scolded when finding a potty accident from hours before (making her very hard to housetrain). My aunt wanted to crate train, but after only two or three days gave up because Zeena constantly cried in the crate. (And ok, we didn't crate train Boomer either
. But we
did
keep him confined to the kitchen)
As time passed, I've reprimanded my aunt hundreds of times, trying to get her to change the way she was bringing up Zeena. My aunt would change something she was doing and then give up again.
Zeena was also very hyper, with a more labby personality. They hired a trainer for $600 which helped some but not all.
As you might imagine, by now Zeena is one messed up dog. She is practically not housetrained at all, and when she meets other dogs, she tries to nip out of fear (not being socialized). My aunt doesn't see that she is the reason for Zeena's problems, no matter what I try to tell her.
A few weeks ago, they found Zeena a new home. Everything seemed ok, the new owners didn't mind trying to housebreak her, but after 2 weeks, they got fed up. They said that she began attacking their golden retriever and becoming food aggressive.
Now, back at my aunt's, Zeena has continued this "attacking" and often goes towards their other dog's neck. I don't feel this is really aggressive behavior, but more in play.
She often poops in the house upwards of 3 times a day. In my opinion, this is probably because of her food. She is on California Natural. Not the worst food out there, but it could be better. Also, she constantly gets to the cat food. Instead of moving it, my aunt just deals with diahrrea. :roll:
So the real problem now is that my aunt and her family is going on vacation on Saturday and don't want to "deal" with Zeena anymore. They are considering euthanasia. I am literally outraged. I would consider taking her myself, but with a family of six, plus two dogs and three cats, its not possible for me to take on an unhousetrained dog.
I need advice - not on what my aunt should have done better because I know what she did wrong, but on what to do about this situation.
I told her to contact our breeder who stated she would be there for the life of our dogs. My aunt says that they wouldn't be able to ship Zeena to the breeder by Saturday. (We're in CT, the breeder is in OH).
I am frusterated that she is giving up and doesn't understand what she did wrong in the first place. And none of this is fair to Zeena!
Does anyone have any ideas? Or know of a good home that would work with Zeena?
I don't have any recent pictures of her, but this one was from when she was about 12 weeks old: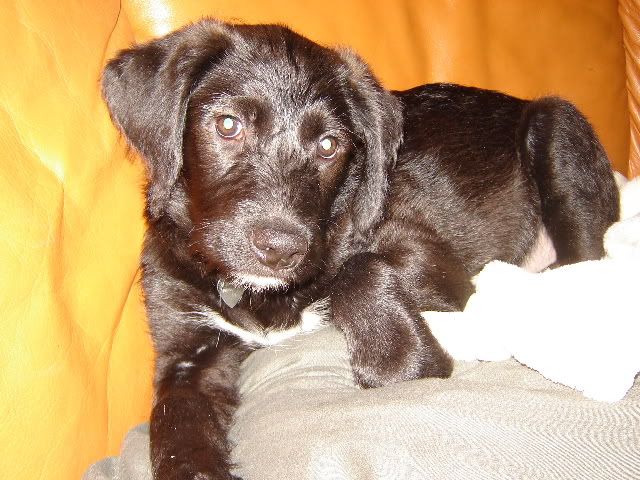 I need help!
(and sorry this is so long)