Discussion Starter
•
#1
•
Guinness is doing great! He experienced his first camping trip this weekend. I wish I would've counted how many people stopped and drooled over him, or asked what kind of dog he was, etc. It had to have been in the hundreds; I'm sure he felt famous. He got to sleep in a tent with us and go hiking around a lake... he's still a little wary of water.. which I find odd. Maybe it's just because he's still young?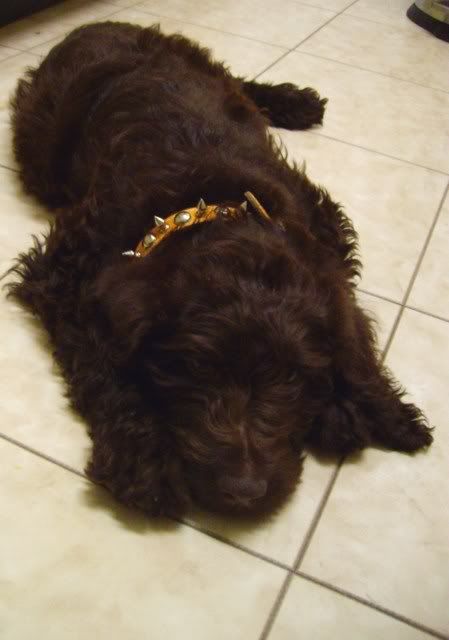 His favorite places to sleep are the kitchen and my bathroom. Linoleum is obviously his favorite surface. See his sexy spiked collar?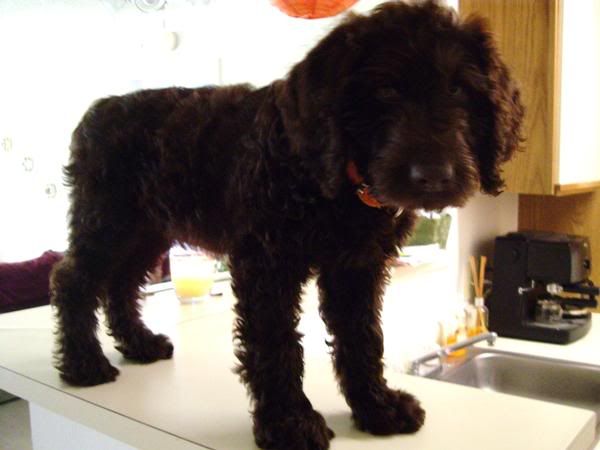 Posing.
I'm curious how big he's going to get. I've had two other Labradoodle owners say he'll probably get up to 70-80 lbs. I haven't weighed him recently, but I'm sure he's 30-35 lbs. at 11 weeks.
Also, I know it's WAAAY early to even be thinking about this, but I'm curious what your opinions are on making Labradoodles stud dogs.