Discussion Starter
•
#1
•
Hi there!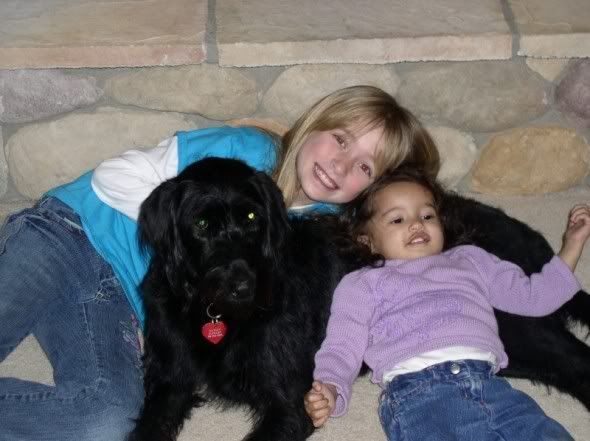 This is Marley the F1 labradoodle with my daughters. We re-homed Marley in November 2006 not long before she turned 1 year old. The great thing about that is most of her basic training was done and for first time dog owners that was great! Her previous owners house-trained her, and she can sit, shake and go to her bed on command.
It has been so interesting to lurk on these boards and read such funny stories and discover how alike these dogs are! The Doodle 500 takes place almost nightly in our house and I could spend all day picking up socks (and sometimes underwear) from around the house! Although I haven't read that anyone has come home to dirty diapers eaten and shredded up all over the living room floor. (ICK!!)
So my questions-
She is so smart she can tell when we're going to be leaving and refuses to go outside. I have tried to have a treat in my hand to lure her outside and then reward her. She won't go for it. Isn't this how she she should be conditioned to learn something? I just tried a kong toy and she licked all the peanut butter, but then didn't care to try and get the treat out or play with it. We usually end up having to trick her or drag her outside. She actually can be left alone in the house and do fine now that we know to keep the counters clear, doors to rooms closed and dirty diapers out of reach, but our preference is for her to be outside. Sometimes she won't even follow me outside just to play. She's rather good at holding her bladder apparently...
We have now discovered that when she has been outside she must be bored (even though there's probably 8 toys outside for her) and she's digging.
I think the only thing she truly likes to play with is other people or dogs. She does like pig ears, and we had not purchased a new bag since we last ran out. They just don't last more than maybe 10 minutes with her so how else can I give her incentive to go outside and keep her busy if we're not home. 3 days a week she's inside most of the day as I'm telecommuting at home and she lays around all day and doesn't even come up to me to engage me in playing with her.
One other thing- she's been jumping up on people a lot with 2 children and guests (many of them children too) we don't like that. Plus in the evenings she also will climb up on your lap when sitting on the sofa and play bite (I can tell it's not aggressive). I told my husband his yelling at her will probably not help. Does this come down to just needing to be sure she's well exercised in the daytime so she's tired at night?
Thanks!
Erika