Discussion Starter
·
#1
·
It's been a while since Ive been around. We've been busy.... with wheelin, and youth bowling coaching, tourneys etc. And then Bandit keeps us busy too.
Well, we decided that we needed to take a break so it was decided that we would take a vacation and my FIL volunteered to keep Bandit while we were gone... Everything worked out well and we are now back.... Here id a copy of our trip report for those interested.
Okay, just back and this is my first trip report so dont go too hard on me.
Worst part is that the camera was acting up and a lot of shots just didnt turn out as good as normal.
Disclaimer, reading this will most likely make you tired if the pretrip communications I received on the forums are any indication... I have a lot of drive and energy, and friends complain of it being tough to keep up with the active schedule I keep. Although I did gear back a few levels for the trip and actually relaxed a fair bit.
The last trip we went on was 11-12/99 over Thanksgiving and were on property for 13 days. We went with my parents, aunt and sister. It was stressful and near disaster until ~day 6 we (the 3 of us) decided to go it alone and deviate from the very detailed itenerary, and meet up with the group for meals. DS was 6 at the time, and had fun, but was dissappointed about not being tall enough for a lot of the attractions. That all changed for this trip, he was taller, we were going alone, and had a loose itenerary with a good gameplan for touring. This was going to be far more relaxed. Life got in the way over the past eight years, and lost sight of anything outside of four wheeling. While that is fun, it consumed all of our time as we were on several event planning committees and such. Came across a good deal and decided to book the trip, only ~60 days out. Luckily, everything came together, and we were able to get the time, even though I had just started a new job in July. We were all super stressed and needed this trip more than any of us knew...
Introducing the cast:
Kyren (DS) currently 13 (turns 14 on the 30th), but the trip was a part of his birthday celebration since getting a week off school during his birthday is not an option. Therefore, it was decided that we would celebrate during the trip
Tia (DW)33, AP Supervisor for a large travel industry supplier, she had been working long, hectic, stressful hours and really needed to get away, and when I asked her what she wanted to do or if there was anything she wanted or not wanting to see/do, her typical response was. "I don't care, so long as I have a bed to sleep in during the night, a shower in the morning, being with my boys, and not thinking about work, nothing else matters to me."
Myself 35, Systems Engineer for Commercial A/V Integration (fancy talk for designer of audio and video systems for businesses including stadiums, theaters, video conferencing, house of worship, etc), I was the master planner and puppeteer for this trip and orchestrated everything. Looking back, there is little I could/would do differently.
Day 1 - Friday 10/12
I was up all night as I never got home until 1130 Thursday night, it was position round on my men's bowling league; the team requested my presence. Since we had a 230A wakeup call, 2-3 hours sleep just would have created more problems than staying up. That's what I did. I finished the printing of documents, boarding passes, etc doing last minute checks and loading the MP3 players with tunes, while clearing out my TIVO memory to allow for the time away.
That being completed, I showered and woke up the fam and started gathering everything and moving it downstairs to be loaded into the car.
About 15 minutes before departure, I woke up my F-I-L to take us to the airport. I had brewed a pot of coffee for FIL and DW, so they could get jumpstarted. 330A (3hrs to departure) came and it was time to leave for the DIA. We arrive and unload the car, say our goodbyes and head to the baggage check kiosk. That all said and done, we trudged through security and that went way quicker than expected. Of course that leaves the question, "Dad, why did we have to leave so early? Now we have to wait almost 2 hours for the plane to arrive." Well if we had waited 30 minutes or more, we might have been rushed to make it through security, as it is, we have plenty of time to relax, grab some grub, and chill before we board.
So we grabbed some McD's (ICK), and waited for the plane. I donned the headphones and took a nap, DW woke me up just before boarding, so we boarded, got settled, and back to grabbing some z's I went. Arrived in ATL to transfer planes, and got some supposedly quick Chik-fil-a, what a disaster! Oh yes, how could I forget, when in the south and you order iced tea, you have to specify UNSWEETENED!!!! ICK ICK ICK
So we board that next plane to MCO and grabbed some quick winks since it was a short flight. Deplaned ~155P and headed to DME desk. Arrived and checked in, gathered the fam and headed towards the red carpet, down our pre-assigned aisle, and were first in line, WHOOHOO!!! A few short minutes went by and they called us and directed us to our motor coach, YES! The driver indicated the POP would be his first stop, AWESOME! I must have done something right because this has been too smooth up to now.
Arrived at POP, checked in, got out KTTW, and went to our room, 9348 in the 80s building.
Got to the room and waiting for us were a couple towel animals; time check 3P, right on schedule. We took the stuff from carryon bags to make up our park packs, and ventured off towards the bus.
Arrived at Epcot and went directly towards Guest Services to get DS a birthday celebration button; time check 4P. We came to Epcot for dinner and if we saw an attraction that would be just a bonus. So we wandered for a bit, checked the tip board and saw the Mission Space was a short wait (doing the green with DW and it was 5 min), so we decided to go for it. TT and Soarin were over 45 min. After Mission Space, which DW did not like, we headed towards Club Cool, and we tried everything. Beverly wasn't nearly as bad as it was made out to be. I did really like the China watermelon and the Israel ginger ale flavors. The others were okay.
We walked over towards China as it was now 445P and we thought about catching the film before dinner, but there was an issue with it, so we just shopped instead. Checked in for dinner and were promptly seated even though they were busy.
Had dinner @ Nine Dragons, which was pretty good, not great, but good, although the Jasmine tea was EXCELLENT.
After dinner we headed back to Future World and decided to leave World Showcase for our second visit to Epcot. It was also an EMH day.
We hit Test Track as single riders since that was only 10 min wait, then went over to the living seas and rode the clam, talked with Crush dude, and thought we would check out Soarin, it was now 835 and the wait was only 15 min, so we got in line and decided with that we would heat back to the resort, it had been a LONG day… Soarin was OUTSTANDING, not so much a thrill ride, but I was totally jazzed at the technology and trying to figure out how it was done. Especially since I have done and do a fair amount of integration with the Disney Company and related industries. It's always fun for me to determine how it works.
Got back POP and obtained our mugs and got a light snack.
Walked to the room and our bags were there so we unpacked quickly and hit the sack, ~11ish.
Day 2 - Saturday 10/13
This morning we had ADR for Breakfastosaurus, and we got in line for the bus which we just missed the first one, so we arrive and I am looking for the morning ADR line and could not find it. Frustration starts to set in, because there are a LOT of people and none of the cast members I see seem to have ability to steer me in the proper direction. Decide that we will just be late (a HUGE pet peeve of mine, I am NEVER late, and on the occasions that does occur, I am a bear). I'm not handling things exceptionally well, but hey Im in WDW, having a good time and it just doesn't matter, they will still seat us. So we get over there and have a WONDERFUL breakfast, on top of it all we got to meet two of our fave characters, Donald and Goofy. Goofy signed DS book behind his back!
After breakfast ~930A, I CRUISED over to EE as the FPV, and told the fam to take their time finishing up, bill was paid and I would meet them at Dinosaur standby line. Made it back over there by 935 and got in line, <5min wait. We met an awesome cast member (between preshow and queue for vehicle), she was formerly on the Dream team. She was wearing a lanyard with pins and DS wanted to trade. He was in the middle of selecting something to trade her with and she commented on a pin he was wearing that she really liked, it was something special and rare (forget now which it was, but will update if I can remember). So because of his generosity and willingness to part with that for her, she gave him a special birthday pin with Pooh and Tigger on it which opened like a book. With that she also gave him another fastpass to return later on. He was fairly impressed with that.
We continued through Dinoland and knocked it out, got to EE, picked up a second FP, and the line was only 2 10 min, so went standby for it. DW gave it a shot even though she hates coasters. It didn't disappoint, she hated it. Went over to Kali and rode it, was only 10 min wait and headed to the safari, a huge wait, so we grabbed FP and decided to return later. About now it is getting to be ~1130 so we headed over to the Flame Tree BBQ for lunch. It was awesome grub. We finished there and made the loop again to hit EE, (gave a FP to a boy that was hanging out in the front and he was stoked) with the boys, and decided to run back over to the safaris with our FP. After that and doing some more shopping, decided to hit EE for the last time, then down to Dinosaur where DS ran into the cast member that gave him the FP. He thanked her and gave her a big hug (I think he was twiterpated with her).
So we departed after the parade and went to MK for the evening entertainment. DS really wanted to go swimming so I compromised with him and said we would do the earlier Spectro and have him back with enough time to swim before bed.
It was ~6P when we got to MK and we went on a seek and destroy mission for food. CHH in Liberty Square was out of food, PyP in Adverntureland was closed, so we went around to Frontierland and hit PB. It was less than stellar, but it was some grub and we were hungry. We were looking at ~740 when we finished there, so we decided to grab a spot for the parade. Spectro was very disappointing to us, and when it was done tried to find a decent spot for Wishes, ended up on the bridge near Crystal Palace and that was not desireable, so with 10000 of my closest personal friends jammed up in there, we decided to head back over to frontierland and see about the train, which stopped running @ 8P. Then as we ventured back, the crowd had dissipated but they were getting ready for 10P Spectro. Ugh. We used the shops to make or exit while shopping along the way on the one side since we could not get across the way. All in all, I would have gone with my second choice for this evening of DTD/DQ as MK was PACKED.
Made it back to POP ~1030, filled up our mugs, and let the boy swim until ~1130 then it was time to crash.
Day 3 - Sunday 10/14
This was LOEMH, which worked out well since we were standing in the queue @ 730 in the front gate. We were admitted and headed towards Fantasyland. We hit Dumbo, Snow White, Pooh, Peter Pan, and Tea Cups within the first hour. Philharmagic was down.
Ropedrop for the rest of the park came @ 9A and we were ready for Space Mountain, unfortunately it was not ready for us, but I did grab FP for later on. We did decide that is was poor planning to not grab breakfast before we left POP partly because we had mistimed things and a bus was there as we were walking by so we grabbed it. While in Tomorrowland, we hit Buzz Lightyear, Stitch, and Lunar Orbiter. Headed on the path next to the RR and caught the train @ Toontown to access Frontierland. The wait for Splash Mountain was ridiculous so we grabbed FP and went over into Haunted Mansion. It was ~1030 now so we decided it would be good to check in for lunch @ Crystal Palace. While they did that I went over to PotC to check on FP/standby line wait. Forgetting that attraction doesn't do FP, I wasted my time, but no worries we were waiting to be seated anyway. We got in and it was delicious, and Eeyore loved the fact DW was wearing a shirt with him on it.
They had a good time, and DS got to participate in the parade. After lunch we went back to adventureland and did Aladdin, then Swiss Family Treehouse, Jungle Cruise, and PotC. Then decided to hit Splash Mountain, and take the RR back to Toontown. Walked down to Space Mountain and DW loved that one. Then we decided to depart since they were closing early anyway and the standby lines were getting long, we went through shops on the opposite side of the street from last night. We hit the bus and it was ~4P. Went back to POP and caught the bus to DTD. Grabbed a bite since we were close to 5P and thought the Sandwich of Earl sounded good, it did not disappoint. We did some shopping and a LOT of pin trading, that was a great time and we decided to forego DQ since we had spent so much time trading.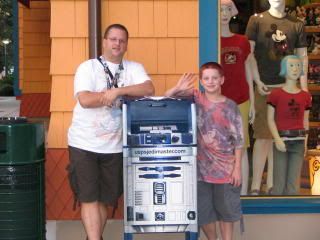 Made it back to POP and filled up our mugs and found the dessert bar (aka sundae station) that was the BEST value for snack creds ever! It included 3 scoops of ice cream hot fudge/caramel, whipped cream, nuts/sprinkles, cherry all for one snack. Add to that a brownie and you have a killer sundae for 2 creds. It was close to 1130 when we got back to the room.
Day 4 - Monday 10/15
This is our MGM day, and it was a good one. We had learned from yesterday to have something to eat in the morning so we did and then got ourselves ready to go. We did well and arrived there at rope drop and headed directly to RnRRC, grabbed FP got in standby and rode it, then went over to ToT and grabbed FP and rode it. Funny thing about that is that we ran into a family from the youth bowling that we coach. We had no idea they were headed down and it was funny to have seen them then. We then went over to Magic of Disney Animation, and finished out that area. Stopped at the pin traders under the hat and spent some time there while we were awaiting our check in time for lunch. We ate lunch at 50s Prime Time Café. The server we had, Topher, was a riot, he was by far the most obnoxious, animated server there and really gave DS a large ration of guff. I got my fair share too, but he was awesome. Food was okay for what it was. It's typical home style comfort food. DW/DS love that fare.
We left there and headed to Jedi Training academy, and DS really wanted to be picked, but I think he was too old for what they were looking for. We watched anyway and he was kinda glad he wasn't picked since it was "cheesy".
We did Star Tours and Muppets before heading over to Indiana Jones. After that show, boy wanted to go ride ToT and RnRRC again. We go FP for RnRRC for a third trip later on and finished that sequence up, it was about time to grab dinner at Hollywood & Vine for the Fantasmic package. It didn't cost us anything extra, so I recommend that to get the preferred seating. It was nice not having to worry about it and just show up. Dinner was alright, although I do like the selection of desserts on a buffet line to the standard choc cake, etc that they typically have.
After dinner I took off to grab to rental car ~5P now, and they closed @ 6P. I felt too pressured to bus to Pop for a transfer to DTD. All I needed was to mistime something by a slim margin and I would not have made it. So I decided to catch a cab to the Doubletree (where Budget is), it was $12 for MGM. Made it with plenty of time to spare and decided that since it was 545P that I would just drive to MGM instead of parking it and bus transfer from POP. Got back just in time to catch RnRRC one last time before hitting F!
Fantasmic continues to be my favorite nighttime entertainment, it was incredible. We did some shopping and talked with some cast members outside the Beauty and the Beast pavilion that were wearing "Goofy's Mystery Search" shirts or something like that. Basically a scavenger hunt inside MGM for cast members. They got a kick out of boy and he was flirting quite a lot. We drove back to POP to get more beverage and get ready for the next day.
Day 5 - Tuesday 10/16
Got up in time for breakfast at POP, and then decided to head out. With Miss Garmin firmly attached to the windshield we departed the land of Disney. We arrived at the Universal complex and parked 8 miles away. At least they had motorized walkways! We headed straight for IoA and went clockwise starting with Hulk, skipped Doom, and had to come back to Storm since they opened that later. Then we decided to just get wet right away and get it over with. Bilge Barges was closed both days we were there, so to Ripsaw Falls it was. It certainly got us wet. Then we hit JP river ride and that got us wet too.
Continuing on we walked by the fountain and boy had fun with it last trip and he decided to be a smart aleck this time… well he looked like he wet himself after it was done with him. It was hilarious.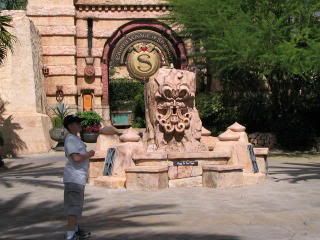 Then we did Dueling dragons (Ice then Fire), Ice is SO much better. They were walk-ons and without a queue to guide you through the castle it was difficult. Seuss land was a great time as always and hit all of those attractions.
Back to Storm and then everyone was hungry and done with this park (~1230P), so we hit the Citywalk and went to Margaritaville for lunch. GOOD food! Great atmosphere.
So we discussed how we wanted to complete our day (hitting USF, heading back to Disney and going to DQ, or something else, then I remembered that we wanted more time at Epcot, and really wanted to see wishes again.) Since we had a fairly complete day at MGM yesterday we decided not to hit that park again. It was determined that we would head to BB and free up our Thursday for Epcot. So we had to go to POP, change clothes and hit DTD, it was convenient since we had a car and no worries on the bussing. So we got there ~130P and stayed until they kicked us out, and as a bonus, we were next to Winterland Summerland mini Golf course. We played a round and it was a lot of fun. We got back to the room and changed for our dinner at Pirates Dinner Adventure. It was interesting and different, when compared to Medieval Times. Decided to hit Citywalk for shopping and found it to be a bust when compared to the one in Hollywood. With that we went back to POP and got beverages.
Day 6 - Wednesday 10/17
Again, had breakfast at POP, and then headed to Universal. This was our USF day and it was okay, although our least favorite park. Unless they do a major overhaul to it I wont be going back there. Everything feels very dated and hokey. They are also trying to emulate Disney at every turn and then have the nerve to poke jabs at it. Go figure. Mummy was pretty interesting and my favorite part of that park. It was fairly innovative and somewhat imaginative.
We went through the park and were done by 1P, we returned to IoA and hit a few things there that we wanted to repeat. On the way back to Disney I noticed we had some time, so that we could run over to Wilderness Lodge, and Animal Kingdom Lodge and tour those lobbies, etc before making for DTD via POP to drop off anything we didn't want to carry (GPS, shopping, etc) after dropping off the car. We drove to the DoubleTree, dropped off the car and then got shuttled to the Marketplace of DTD. We checked in for our dinner at Capn Jacks, which DW was anticipating all week, she wanted that lobster tails entrée. It was good and the best part though was the hostess, who was from China, seated us DS noticed where she was from and greeted her in Chinese (the limited vocabulary he has). This made her day, she was nearly in tears. She is here teaching Chinese to English speaking people on her off time. She was so impressed that he was taking it in school that she returned with a Beijing Olympics pin for him when she saw his lanyard. She also posed for a picture with him and made her very happy.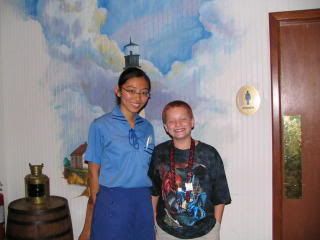 Oh yeah, the food was good here too. It was our intention to hit DQ after dinner, but that didn't happen, we got involved in pin trading and shopping instead.
Once it was close to 11P, we thought it would be good to head back home and get some rest, but not before refilling our mugs.
Day 7 - Thursday 10/18
We had our routine breakfast @ POP and got on a bus for Epcot (it was weird being back on the bus again after two days of having a car and the freedom attached.), and was there for rope drop. I was FPV, and HAULED over to Soarin, pacing the cast members (who were yelling at those that we running). Grabbed the FP, waited at the standby line for the fam who appeared within 30 seconds and got onto the ride. It was even better this morning than it was Friday! We then jumped over to Mission Space and did the orange side, grabbed the FP for TT and rode it standby. Boy decided to go through innoventions on the way to World Showcase when it opened at 11. For lunch we thought it would be nice to graze at the food and wine festival. Although it was WAY too hot to enjoy wine, we just munched and drank water. Argentina was good grub, and so was the UK, Canada, and that's about it, just didn't try Mexico or Italy, they were fairly typical. I wanted to try some out of the ordinary food. Hit Maelstrom, and the Norwegian shop is awesome, that cologne is wonderful.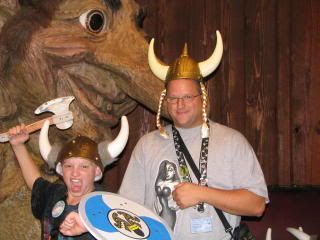 Then we saw Reflections of China, American story (when we came out it was coming down in buckets, and I hate waiting, so we donned ponchos and took off towards UK). We got to UK and I tried some tea, the orange one was great and that lent it well to some fish n chips. O Canada was good and the custard/cheese soup were both great.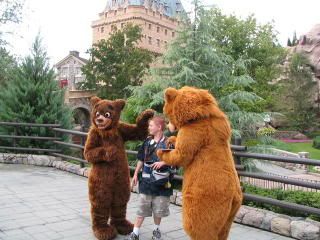 It was nearing our dinner reservation so we headed that way and checked in. Had a great dinner and got to see the gang, Chip n Dale, Mickey, & Pluto.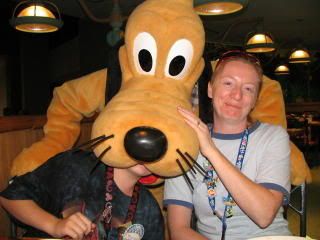 After dinner went to see Honey I shrunk the Audience and back to Soarin, then scooted over to TT to complete the night. We realized we hadn't had many Photopass shots taken so from this day forward we made every effort to find them and get our pics taken, and some of that meant going back to some parks we thought were done.
Day 8 - Friday 10/19
This was breakfast at Ohana, and I just wasn't sure of the transportation times and being burned several other times throughout the week, decided to play it safe. Ready to leave in time for the second bus, and got to MK, since it was LOEMH, we went in and got some photopass shots along mainstreet then transferred to monorail for Poly. Got there ~45 min early, got DW a latte and decided to check in anyway. Well they called us shortly afterwards and seated us. We grubbed on down to the delicious food, it was great. We were able to meet DS favorite Stitch, Lilo, Mickey, and Pluto.
That was great and we were on our way by the original ADR time. Because of the extra time, we decided to get another look at Wilderness Lodge, so we took the monorail back to MK, took the bus to WL, and then grabbed a bus to TL. We got there ~1015, so not terrible considering our commute route. We saw all this had to offer, although the shark reef was a disaster, I could not unlearn breathing through the nose and use my mouth instead, so I gave up and didn't do that. Otherwise it was fun, although hot. The wave pool was interesting and fairly comical.
We grabbed some snacks @ Tillys in the park and split them. Finished off our day and left ~4P, hopped the bus for POP and changed in the room.
Because we had some time, we thought it was a good idea to head over to MGM and grab some photopass shots here including the magic shot. We got them, were in and out in less than an hour, and off to MK we were via TTC and monorail. We got to MK by 6P and walked around people watching, photopass shots, pin trading, shopping, and hanging out. We decided that it was time eat once we were there. While walking through the shops, we ran into our family that we saw the other day at ToT. We wound up at Columbia Harbor House for dinner and boy was it good. We continued to tour around and wouldn't ya know it, we get to Space Mountain and FP are still available, so we grab one and its almost 2 hours away from use. Not to worry, we rode the train over to Frontierland, walked over to Adventureland and got a Dole Whip and a Dole Float. YUMMY! Wandering the world, we walked through Mickey's house and then found a nice spot to observe fireworks. Cindy's Rose Garden seemed as good a spot as any, Limited crowds and obstructions made the slightly skewed angle we watched from.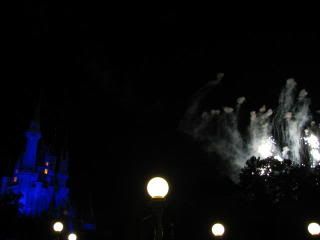 To minimize the rush out of the park, we browsed the shops letting the crowd get out in front of us. We went back to POP to get beverages, and pack up for departure tomorrow.
Day 9 - Saturday 10/20
Departure day. We woke up and finished our packing and headed towards airline check in. This was a slightly painful process as they were short staffed. We got up there and our large case was 8# overlimit. We equalized the cases to: 21# (was carryon), 42#, 49#.
After that was all settled we had boarding passes in hand and had them keep our carryon bags at the luggage assistance. Did I mention it had been raining for quite some time this morning and kept it up for a while. It finally started to slow up, but not before we got frustrated and hopped a bus to DTD for breakfast @ Earl of Sandwich. By now, it had let up, so we gave boy a choice, DQ, or AK. He chose AK and off we went to POP and continuing to AK. We stopped to get Photopass shots where we could.
Heading over to EE, they were doing test runs, but not allowing anyone on, FP were beyond our window, so we decided to just get the photopass shots including the magic shot.
Got back to POP ~1245P so we took the tour and grabbed some pics, got back in time to grab our carryons, and wait about 15 min for our DME motor coach. Arrived at MCO, went through security and made it to our gate.
Boy wanted a snack so we found a sandwich kiosk and had a quick light bite. We ran into our friends again as they were also leaving @ 5, but going direct. We were connecting through DC. That connection was a 2 hr wait, so I confirmed that our other friends that arrived @ 510 made it in, got to POP and received the tourbook I left for them. Additionally called the FIL to confirm he was picking us up @ midnight.
What a long day that was, but we made it back and pulled into the driveway ~ 1A.
All in all the weather was hot n humid, even with a cold front the first few days it was still mid 80s, then it became mid 90s. Had two instances of rain, but neither was devastating.
Saw several dream team members, but did nothing more than converse and trade pins with them. No magical moments here. Although I did see a LOT of people with fast passes, lanyards, and mouse ears. I think we were not in the target demographics. 3 person family, with a teen.
We also had great luck with Mousekeeping and the towel animals. We got one every day. WHOOHOOO!!!!
All in all had a great time. The main points that were noticed:
* 2nd to 3rd week in October is BUSY, HOT n HUMID.
* POP dessert location has awesome sundaes for a snack cred.
* Having a logical touring plan w/contingencies built in is a must.
* Being flexible is also a must.
* Its hard not to be happy in WDW.
* Regardless of location, there are a fair number of inconsiderate people out there.
* Pin trading is a LOT of fun!
* Even with a packed schedule, nobody felt rushed, cranky, or out of go.
* DDP is a LOT of food!
Thats about it for the gist of it. Perhaps I can get some pics up shortly.
Here is a link to the album:
http://trailseeker.com/gallery/gallery2/main.php?g2_itemId=27870