Discussion Starter
•
#1
•
I took Chouette to Petsmart again for grooming yesterday; she badly needed it when we got back from France. Her left ear had issues and she was very shaggy; I could barely see her eyes!
But I don't think those people know any other cut but a short poodle trim. The groomer told me she was full of mats and knots and she'd have to take her down fairly short. That's the same thing the same groomer told Rowdie's person, who's also from this area, and remembering that, I had brushed Chouette thoroughly the day before until there were no mats or snags. So I protested that I'd just checked her and she was fine. The groomer ran her fingers through her coat and came up with a small tangle and used that to prove her point that she was matted. She said that if I tried to run a comb through her I'd see, but even when she used a large-toothed comb through her coat to demonstrate she only came up with one snag. However, it didn't seem worth arguing about. I think they're real one-note Johnnies and I'll have to find someplace else for next time because I really don't care for the short poodle look.
Tony says she's gorgeous. I had told him I was going to instruct them not to put bows in this time but he said he liked them, so she's all fancied up! And she looks pretty, as always, but I really prefer the shaggier look. Both DH and son seem to like this version, though.
At least this groomer was kinder to her, but the ear hair pulling really upsets her and her hind legs were shaking. I felt horrible since I've never seen her shake before, but her left ear badly needed attention because it's been really foul in spite of my cleaning it with a variety of substances like alcohol, vinegar and peroxide. The petsitter had said that she had something to treat her ear with, because I first noticed it the day I brought her over there before we left, but when I got her back her ear was worse. Still, the sitter seemed very nice and Chouette was fine aside from that, so I'd use her again if I needed to.
Do any of you pull the hair out of the ears yourselves? I'm not sure why she's having this problem; I'm feeding her Canidae and I don't think any of her treats have corn. I'll have to check that out to be sure, though.
Here's the groomed version of Chouette La Chienne: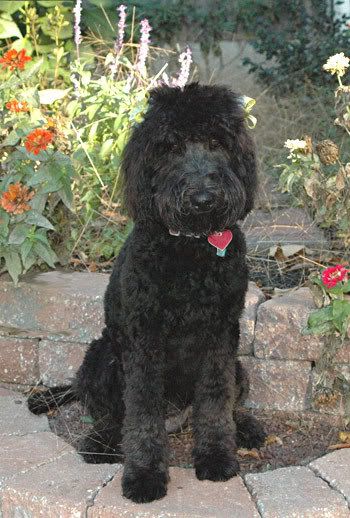 and here's a relieved Chou after the photo session was over: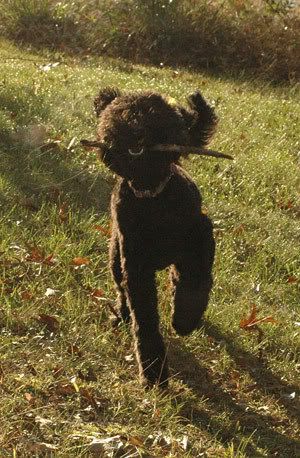 Leslie