Discussion Starter
·
#1
·
Dexter and his doggie park bff Nanook, [photo not available at this time
]had a rockin' good time time this morning at the big field. It had been POURING here for the entire day yesterday, and while I expected the grass to be wet, and his paws to get a little muddy, I didn't expect that he and his partner-in-crime would find a huuuuuuuuge puddle off to the side. Now keep in mind, Nanook is a Samoyed, pure white.
Here's how Dexter ended up. You can imagine how Nook ended up: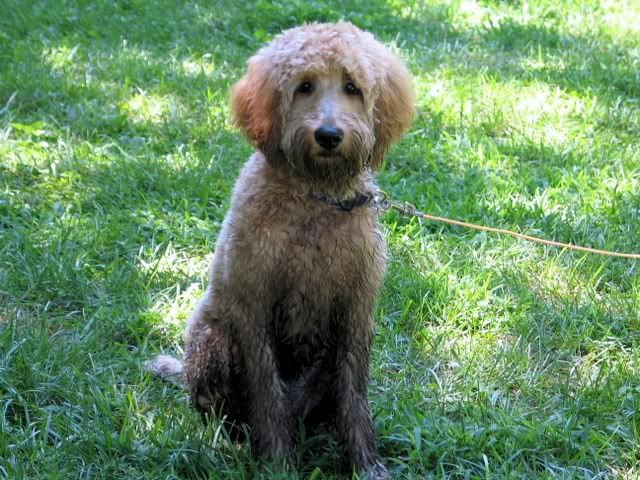 Soooo, I had to give the mudball a bath. Which is kind of significant, because, well, ....
I've never bathed Dexter myself until today.
Actually,
I've never ever given a dog a bath until today
:shock:
But there's a good reason for this. As a child, my parents were always the ones to give a bath. And with Dexter, I wanted to socialize him with a groomer, and they were soooo nice and did such a good job with him, that I ended up getting into the habit of taking him there for ALL of his baths. It was so easy...especially with a two-year-old underfoot!!!
But, since all is always well in Doodle-land, I swallowed hard and went ahead and bathed him myself. HE WAS A CHAMP!! Such a good boy! He even dug it when I used the blow dryer on him. Couldn't have gone easier! Gotta love Beginner's Luck!!
So, here is the aftermath of playing with Nook, getting all kinds of muddy, and having Mom give him a bath for the first time:
OUT LIKE A LIGHT!
....and that was our day