Discussion Starter
·
#1
·
This morning Chou had her first session with a trainer. This fellow charges a lot but offers ten brief but intensive individual sessions, during the first eight of which he works with the dog alone. The last two he spends showing the dog's family how to achieve the same results, although of course you can watch throughout. After that you can bring the pup to all the socialization/play sessions he offers, and also return at no extra charge if any problems crop up. Since he's right down the road from us and a friend is very happy with the results from his training I figured I'd go for it. I had called this fellow about eleven years ago when our Great Dane was too aggressive, but we ended up having to give her to a rescue group after she nipped our little granddaughter.
Chou already understands "Sit," "Down," "Come," "Heel," and we've been working on "Stay," but I think she's also approaching an age (she's fifteen weeks today) where she's testing, so for instance she's not as good on her "Come" as she once was. I think it's my fault for letting her off-lead sometimes when I take her out. She gets distracted by our cat and desperately wants to establish a relationship with her, so when I call she's not been complying at times. Ted, the trainer, says that if you have to pop the lead even once when you give the "Come" command because she isn't responding instantly, it's too soon to take her off the leash. Obviously it was too soon.
Anyway, he went through all the basics, including "Heel," and he ended up doing "Stays" with her. He said he usually doesn't deal with "Stay" in the first session, but she was so attentive and picked up so fast that he decided to spend some time on that, too. I suspect he ran out of things to introduce her to because she was so good with the commands already. He says he's dealt with a few other Labradoodles but they were really hyper; he's never met one so calm and teachable! So Chou's continuing to be a good ambassador for doodles!
Here's Chouette waiting impatiently for that next morsel of cheese: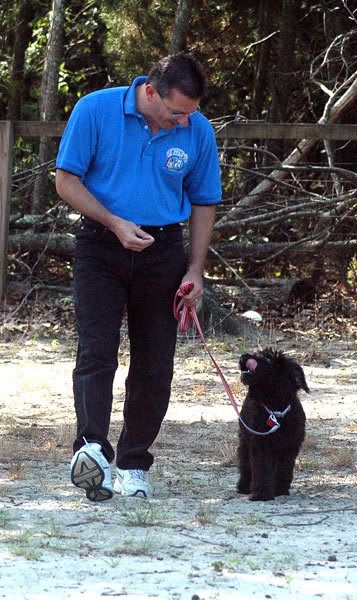 Leslie