Discussion Starter
·
#1
·
Maureen shipped our pup to us yesterday and we picked her up at the cargo depot at Philadelphia International Airport. We heard her yip before we saw her, and it was such a weird sensation to have the fellow bring out a crate with the puppy we'd only seen in photos before! She was smaller than I had expected but just adorable, and only a little damp. She wagged her tail delightedly as soon as she saw us, and our granddaughter, Rosalena, who's ten - the same age as Maureen's Rachael - fell in love immediately. As soon as we got to a grassy area, over the bridge in New Jersey, we took her out and she piddled, to great praise, and then a little while later she started whining, so we stopped again and she had a bowel movement - again to great praise. Her only accident has been in the car after we stopped at the car dealership where my son works, to show her to him.
She slept all night and seemed fine. It was a little hard getting her to settle, but once she did that was it. I tethered her to the leg of my bed and gave her a huge dog bed and some toys; this is my usual routine because then I can tell if a puppy is getting restless and has to go out, or I can pat a lonely little head if necessary. But it was a quiet night, though I woke up frequently to check on her. She got up with me at five and I took her right out and she piddled and had a bowel movement with much fanfare on my part. I took a shower with her yipping a bit and trying to join in the fun, and then put her in her crate. She was quiet in it the first time I used it last night, but the second time she howled. We don't let her out until she's quiet, though.
She's very chewy so I have to watch her carefully. I got her a huge stuffed great blue heron dog toy which I found in a specialty dog shop in Delaware; I had to get it because that's one of my favorite birds. It's soft and plushy but has lovely rope legs for chewing. She loves it and carries it around so proudly!
Here are some pictures of Rosalena and Truffle - we were going to call her Chouette, but even at first I found there was a lot of explaining to do - it's French for "owl", but also is slang for "super" or "cool" as in "trés chouette!" So it looks like Truffle it is!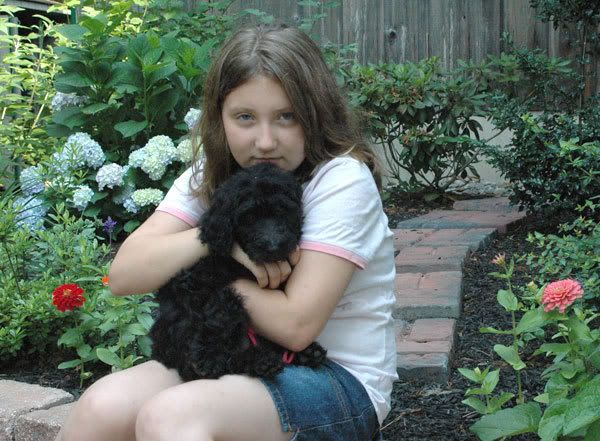 It's hard to photograph a black fuzzy puppy....
Leslie