Discussion Starter
·
#1
·
I finally got Dakota's calendar pictures online. The photographer actually called me a couple of weeks after we did the shoot with Jacque and Vicky's dogs. She had just been to a local park that was beautiful with fall color and wanted to know if Dakota would be available the following day. (Jac and Vicky, I figured one day notice wouldn't work for you but Marge loves to do Labradoodles and you have until next April to connect with her again!) . . . I'm not sure why the photos I post all come out different sizes . . . I guess I'm technically challenged!!
This photo is at my neighbor's house.
This is Dakota doing what he loves most!
We were so pround of him at the park--we only had one incident; otherwise he was good as gold. As always, of course. :shock:
This isn't my favorite photo, but maybe the picture taken with the "real" camera isn't so washed out.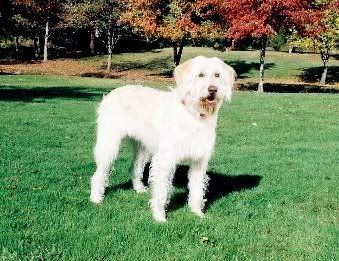 I like this picture and I'm glad they didn't use to many flowers. Dakota is such a rough and tumble boy! :wink:
Ok, here's where the fun began. The photographers wanted us to sit Dakota next to the tree. He was beginning to relax, and to the photographers delight, he literally leaned his body up against the tree! :lol: See the creek behind Dakota?? After they were finished with the pictures, we hesitated a moment to long and when we looked over Dakota was halfway down the bank headed for a dip in the creek. (Jacque understands how I was feeling, times four!! :shock: ) At the last moment, he took our elevated commands seriously and turned around. We must have lunged a bit at him and the game began. Even time we approached him, he would run another direction. It got worse when two of the photographers joined in the chase1 :roll: Finally, I dropped to my knees and he ran right over to me! That was the one and only incident!
I love this photo. He was in a sit stay under a willow tree when he decided, again, to relax. He went into a down stay, again to the photographers' delight!
And the final photo.
I sure was glad when it was over!
Diane (and Dakota)