Discussion Starter
•
#1
•
We attended a Nor Cal Golden Retriever Bow Wow Beach Party event today--all that was missing was the beach!
Dakota tried out the agility equipment, which he is totally happy with-no fear here!!
But one of the highlights was Flyball-I have long wanted to get Dakota involved in Flyball because of his passion for tennis balls! I only believed it after watching about three non-starts before him, but the trainers told me he was truly a natural and encouraged participation in their program-we're seriously considering it!!!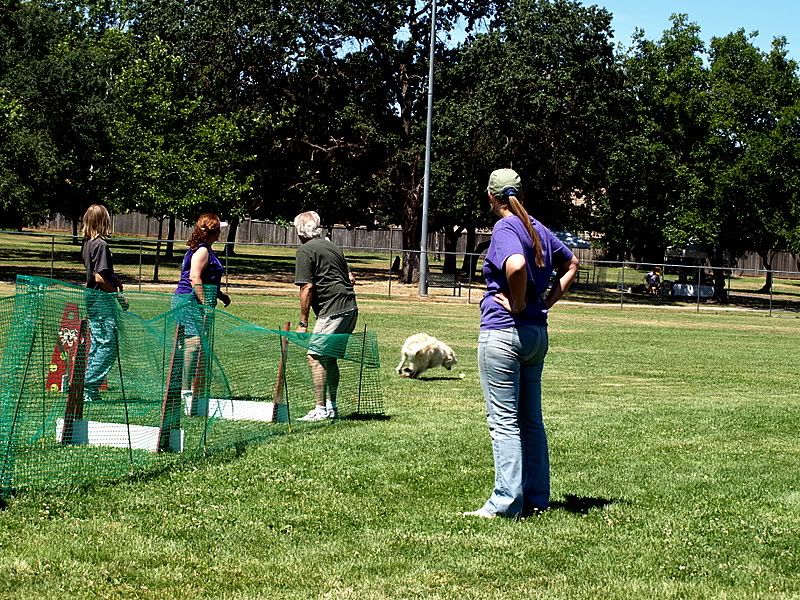 The finale was the Moondoggie, Gidget and Big Kahuna contests! I let my husband take Dakota through the Moondoggie contest. Obviously, my husband has no concept of showmanship and we lost!!!
Sooo, I took the reins for the Big Kahuna contest! Want to know about showmanship??? I handed the two teenage judges a tennis ball and told them to have Dakota sit and give them high 5's!!! What a sport-if only my husband was a more on-the-spot-photographer! All I have are Dakota's 'the Big Kahuna's' winning photos! Not bad for a Labradoodle to take the main title at a Golden Retriever event!!!!

THE BIG KAHUNA!!!